CAMEO VIZSLAS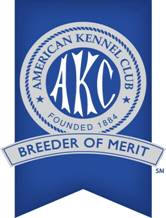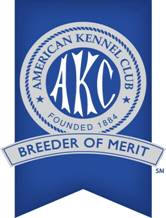 Breeding Plans 2015
Spring and Summer litters planned.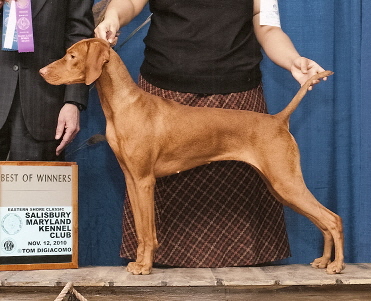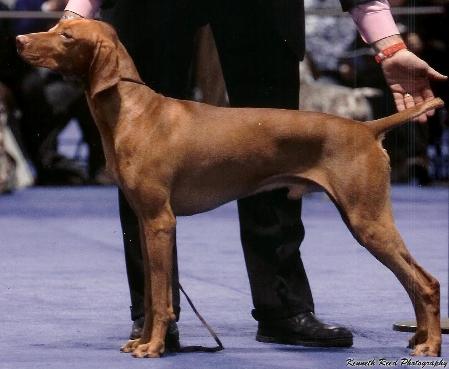 CH. Cameo's Moon Shadow - "Trina" CH. Linmar's Brambles-N-Brier - "Brier"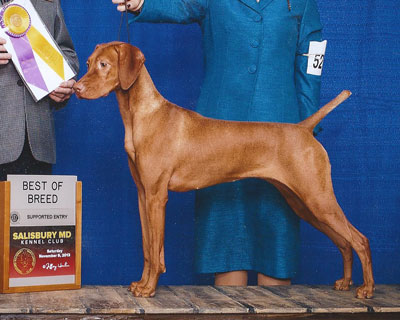 Grand Ch. Cameo's For Ever Vida - "Vida" Stud dog not chosen yet.
Cameo's In Her Majesties Secret Service "Roscoe" to Cameo's Red Dahlia "Dahlia"
My list is full for this litter.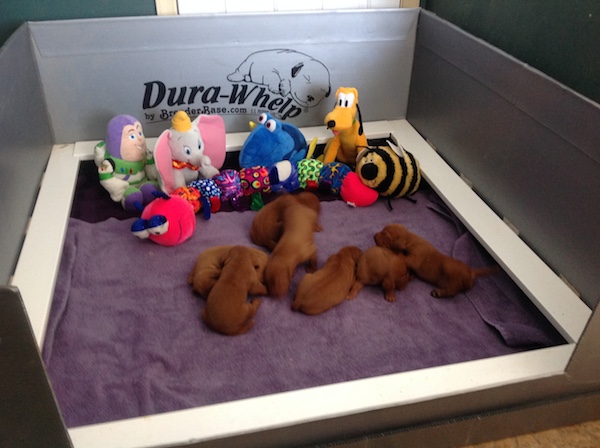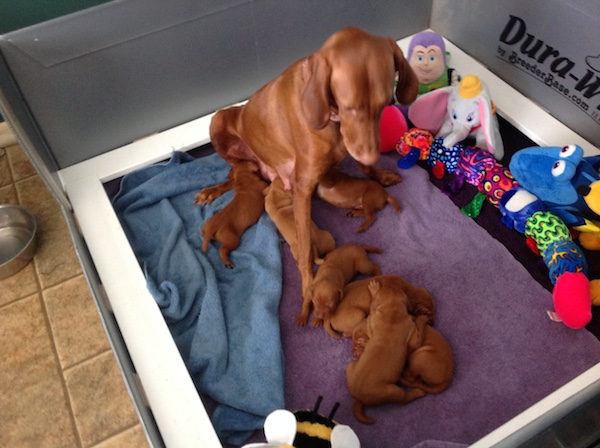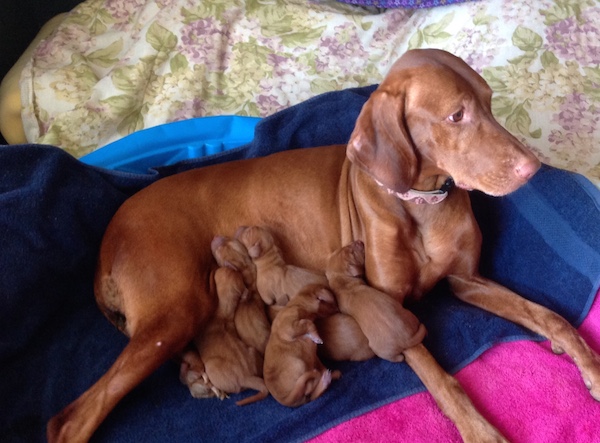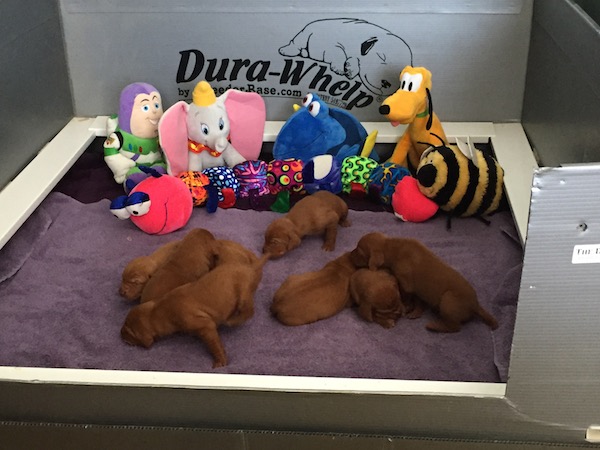 One day old One week five days old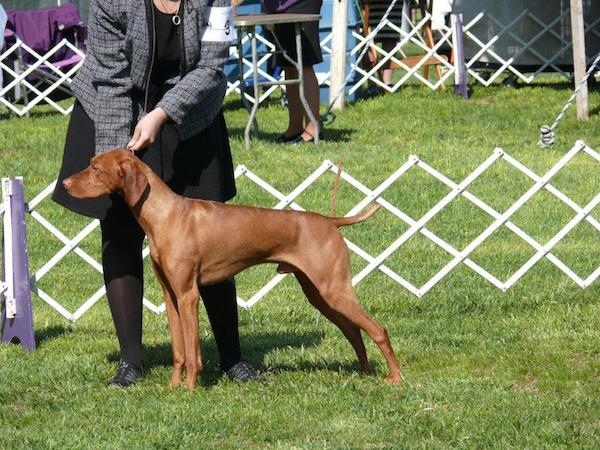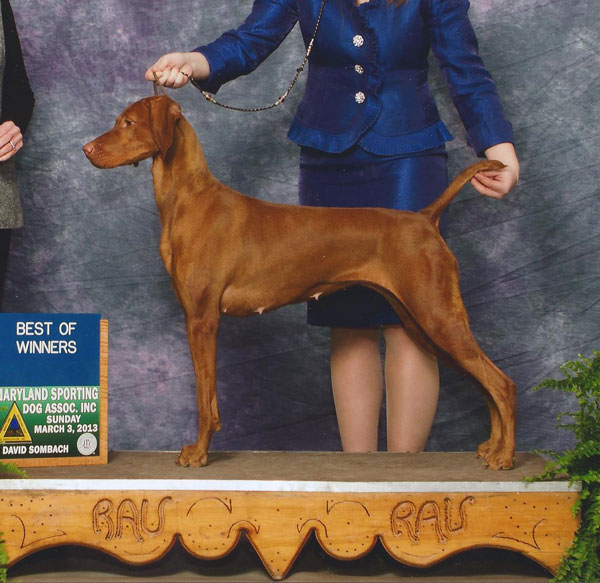 Cameo's In Her Majesties Secret Service - "Roscoe" Cameo's Red Dahlia - "Dahlia"
Contact me Iva Fisher Cameo Vizslas
cameovizslas@gmail.com
___________________________________________________________________________________
Frequently Asked Questions About Adding A Vizsla Puppy
Is the Vizsla the right breed for me?
Vizslas are very active and energetic and require daily exercise. Vizslas also tend to be very needy and want to be with you all the time. These same qualities that make Vizslas so endearing to those who are devoted to them can drive some people crazy. This breed is not right for you if you want a low-key dog who is content to lie down in the back yard and not demand much from you. Vizslas who do not receive sufficient exercise or attention can develop severe separation anxiety and become very destructive. There are creative ways to make sure a Vizsla's needs are met, even if you work – day care, pet walkers, play groups – but it takes planning and involves a serious commitment.
Especially in homes that are not dog experienced, we generally recommend that the youngest child in the household be Six years of age or older before you add a puppy. Adding a vizsla puppy with a toddler is extremely difficult, and the joy of raising and enjoying a vizsla puppy frequently turns into a burden when trying to juggle a toddler and puppy – which is not good for anyone. Vizslas are usually very accepting of newborn humans added to their existing families. Vizslas raised with cats also usually do well with them.
Should I get a boy or a girl?
There is no simple answer to this question, and it makes more sense to focus on the personality and conformation of each individual puppy, rather than its gender. That said, we are willing to make a few generalizations, noting that there are exceptions to every statement. We think boys are just a bit more devoted and needy; girls are a little bit more self-reliant and independent. Boys tend to be larger (50 to 60 pounds) than girls (40 to 50 pounds). Boys in our experience have been easier to housebreak than girls, but boys can also destroy shrubs and mark in the house if not trained. For a variety of health and development reasons, we feel very strongly that no puppy should be neutered or spayed prior to reaching its maturity (i. e., a female will have had at least one heat; a male will be two years old ).
How do I get on your list for a puppy?
The process starts with a questionnaire. Your answers will enable us to help you decide if the breed is right for you, and will help us in matching the right puppy to your family. After completion of the questionnaire, we ask that you come meet us and our Vizslas to further determine if the breed is right for you. Families are welcome to visit the puppies as frequently as they want after the puppies reach Four weeks of age. We are always willing to assist you in locating a breeder whether or not we are breeding at the time. To obtain a questionnaire, contact us at cameovizslas@gmail.com.
A 4- 6 month wait is typical as breeders who breed out standing conformation and temperament puppies
have waiting lists and high demand for their puppies due to recommendations and repeat buyers.
have waiting lists and high demand for their puppies due to recommendations and repeat buyers.
Iva Fisher cameovizslas@gmail.com
Superb Health - Solid Temperament - True Breed Type -
Strong Field Ability - Outstanding Producers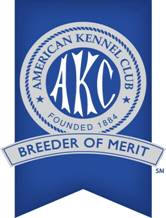 ________________________________________________________
Please email Iva Fisher Located in
Westminster Maryland for more information cameovizslas@gmail.com
_________________________________________________________________________________
Hungarian Vizsla Puppies Hungarian Vizsla Puppies Hungarian Vizsla Breeder Vizsla Breeder